The Dance of Death
XIX. - The Lawyer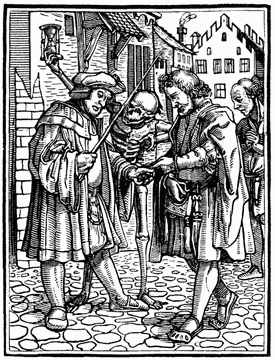 THE ADVOCATE.
Callidus vidit malum, & absc§dit se innocens, pertransijt, & afflictus est damno.
Prover. xxii.
L'homme cault a ueu la malice
Pour l'innocent faire obliger,
Et puis par uoye de iustice
Est uenu le pauure affliger.
Death comes upon the lawyer in the street while he is being paid by a rich client.
Life levels all men; death reveals the eminent. -- George Bernard Shaw