The Dance of Death
XX. - The Counsellor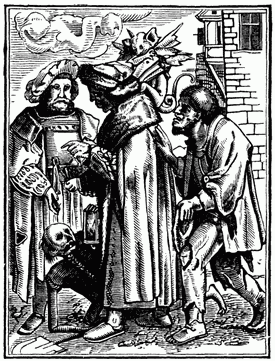 THE COUNSELLOR.
Qui obturat aurem suam ad clamorem pauperis, & ipse clamabit, & non exaudietur.
Prover. xxi.
Les riches conseillez tousiours,
Et aux pauures clouez l'oreille.
Vous crierez aux derniers iours,
Mais Dieu uous fera la pareille.
The Counsellor, prompted by a devil, is absorbed by a nobleman, and turns unheeding from a poor suppliant. But Death, with glass and spade, is waiting at his feet.
Live as long as you please, you will strike nothing off the time you will have to spend dead. -- Montaigne