The Dance of Death
XXII. - The Priest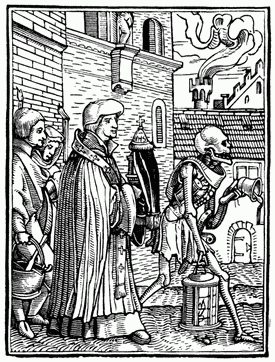 THE PRIEST.
Sum quidem & ego mortalis homo.
Sap. vii.
Ie porte le sainct sacrement
Cuidant le mourant secourir,
Qui mortel suis pareillement.
Et comme luy me fault mourir.
The Priest carries the host to a sick person. But Death precedes him as his sacristan.
Death, that final curb on freedom, has itself suffered a death blow through the resurrection of Jesus. - Michael Green.