The Dance of Death
XI. - The Queen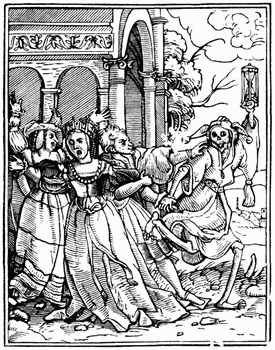 THE QUEEN.
Mulieres opulentŠ surgite, & audite vocem meam. Post dies, & annum, & vos conturbemini.
IsaiŠ xxxii.
Leuez uous dames opulentes.
Ouyez la uoix des trespassez.
Apres maintz ans & iours passez,
Serez troublÚes & doulentes.
Death, in the guise of a court-jester, drags away the Queen as she is leaving her palace.
We die only once, and for such a long time. -- Moliere