The Dance of Death
XV. - The Abbess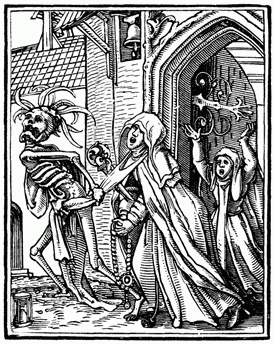 THE ABBESS.
Laudaui magis mortuos quàm viuentes.
Eccle. iiii.
I'ay tousiours les mortz plus loué
Que les uisz, esquelz mal abonde,
Toucesfoys la Mort ma noué
Au ranc de ceulx qui sont au monde.
Death, in a wreath of flags, pulls away the Abbess by her scapulary in sight of a shrieking nun.
Horror at the sight of death turns into satisfaction that it is someone else who is dead. -- Elias Canetti