The Dance of Death
II. - The Temptation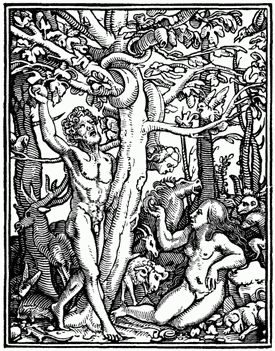 THE TEMPTATION.
Quia audisti vocem vxoris tuŠ, & comedisti de ligno ex quo preceperam tibi ne comederes, &c.
Genesis iii.
ADAM fut par EVE deceu
Et contre DIEV mangea la pomme,
Dont tous deux ont la Mort receu,
Et depuis fut mortel tout homme.
Eve, having received an apple from the serpent, prompts Adam to gather more.
Death: a trick played by the inconceivable on the conceivable. -- Paul Valery