Legands of the Jews > Volume 1 >
---
JACOB AND ESAU PREPARE TO MEET
The message of Laban awakened Esau's old hatred toward Jacob with increased fury, and he assembled his household, consisting of sixty men. With them and three hundred and forty inhabitants of Seir, he went forth to do battle with Jacob and kill him. He divided his warriors into seven cohorts, giving to his son Eliphaz his own division of sixty, and putting the other six divisions under as many of the Horites.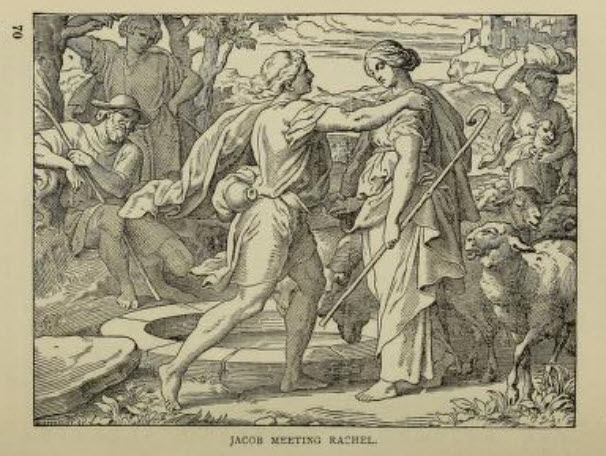 While Esau was hastening onward to meet Jacob, the messengers which Laban had sent to Esau came to Rebekah and told her that Esau and his four hundred men were about to make war upon Jacob, with the purpose of slaying him and taking possession of all he had. Anxious lest Esau should execute his plan while yet Jacob was on the journey, she hastily dispatched seventy-two of the retainers of Isaac's household, to give him help. Jacob, tarrying on the banks of the brook Jabbok, rejoiced at the sight of these men, and he greeted them with the words, "This is God's helping host," wherefore he called the place of their meeting Mahanaim, Host.
After the warriors sent by Rebekah had satisfied his questions regarding the welfare of his parents, they delivered his mother's message unto him, thus: "I have heard, my son, that thy brother Esau hath gone forth against thee on the road, with men of the children of Seir the Horite, and therefore, my son, hearken to my voice, and take counsel with thyself what thou wilt do, and when he cometh up to thee, supplicate him, and do not speak roughly to him, and give him a present from what thou possessest, and from what God has favored thee with. And when he asketh thee concerning thy affairs, conceal nothing from him, perhaps he may turn from his anger against thee, and thou wilt thereby save thy soul, thou and all belonging to thee, for it is thy duty to honor him, since he is thy elder brother."
And when Jacob heard the words of his mother which the messengers had spoken to him, he lifted up his voice and wept bitterly, and did as his mother commanded him.
He sent messengers to Esau to placate him, and they said unto him: "Thus speaketh thy servant Jacob: My lord, think not that the blessing which my father bestowed upon me profited me. Twenty years I served Laban, and he deceived me, and changed my hire ten times, as thou well knowest. Yet did I labor sorely in his house, and God saw my affliction, my labor, and the work of my hands, and afterward He caused me to find grace and favor in the sight of Laban. And through God's great mercy and kindness, I acquired oxen and asses and cattle and men-servants and maid servants. And now I am coming to my country and to my home, to my father and mother, who are in the land of Canaan. And I have sent to let my lord know all this in order to find favor in the eyes of my lord, so that he may not imagine that I have become a man of substance, or that the blessing with which my father blessed me has benefited me."[233]
Furthermore spake the messengers: "Why dost thou envy me in respect to the blessing wherewith my father blessed me? Is it that the sun shineth in my land, and not in thine? Or doth the dew and the rain fall only upon my land, and not upon thine? If my father blessed me with the dew of heaven, he blessed thee with the fatness of the earth, and if he spoke to me, Peoples will serve thee, he hath said unto thee, By thy sword shalt thou live. How long, then, wilt thou continue to envy me? Come, now, let us set up a covenant between us, that we will share equally all the vexations that may occur."
Esau would not agree to this proposal, his friends dissuaded him therefrom, saying, "Accept not these conditions, for God hath said to Abraham, Know of a surety that thy seed shall be a stranger in a land that is not theirs, and shall serve the people thereof, and the aliens shall afflict them four hundred years. Wait, therefore, until Jacob and his family go down into Egypt to pay off this debt."
Jacob also sent word to Esau, saying: "Though I dwelt with that heathen of the heathen, Laban, yet have I not forgotten my God, but I fulfil the six hundred and thirteen commandments of the Torah.[234] If thy mind be set upon peace, thou wilt find me ready for peace. But if thy desire be war, thou wilt find me ready for war. I have with me men of valor and strength, they have but to utter a word, and God fulfils it. I tarried with Laban until Joseph should be born, he who is destined to subdue thee.[235] And though my descendants be held in bondage in this world, yet a day will come when they will rule over their rulers."[236]
In reply to all these gentle words, Esau spoke with arrogance: "Surely I have heard, and truly it has been told unto me what Jacob has been to Laban, who brought him up in his house, and gave him his daughters for wives, and he begot sons and daughters, and abundantly increased in wealth and riches in Laban's house and with his help. And when he saw that his wealth was abundant and his riches were great, he fled with all belonging to him from Laban's house, and he carried away Laban's daughters from their father as captives of the sword, without telling him of it. And not only to Laban hath Jacob done thus, but also unto me hath he done so, and he hath twice supplanted me, and shall I be silent? Now, I have this day come with my camp to meet him, and I will do unto him according to the desire of my heart."
The messengers dispatched by Jacob now returned to him, and reported these words of Esau unto him.[237] They also told him that his brother was advancing against him with an army consisting of four hundred crowned heads, each leading a host of four hundred men.[238] "It is true, thou art his brother, and thou treatest him as a brother should," they said to Jacob, "but he is an Esau, thou must be made aware of his villainy."[239]
Jacob bore in mind the promise of God, that He would bring him back to his father's house in peace, yet the report about his brother's purpose alarmed him greatly. A pious man may never depend upon promises of earthly good. God does not keep the promise if he is guilty of the smallest conceivable trespass, and Jacob feared that he might have forfeited happiness by reason of a sin committed by him. Moreover, he was anxious lest Esau be the one favored by God, inasmuch as he had these twenty years been fulfilling two Divine commands that Jacob had had to disregard. Esau had been living in the Holy Land, Jacob outside of it; the former had been in attendance upon his parents, the latter dwelling at a distance from them. And much as he feared defeat, Jacob also feared the reverse, that he might be victorious over Esau, or might even slay his brother, which would be as bad as to be slain by him. And he was depressed by another apprehension, that his father had died, for he reasoned that Esau would not take such warlike steps against his own brother, were his father still alive.[240]
When his wives saw the anxiety that possessed Jacob, they began to quarrel with him, and reproach him for having taken them away from their father's house, though he knew that such danger threatened from Esau.[241] Then Jacob determined to apply the three means that might save him from the fate impending: he would cry to God for help, appease Esau's wrath with presents, and hold himself in readiness for war if the worst came to the worst.[242]
He prayed to God: "O Thou God of my father Abraham, and God of my father Isaac, God of all who walk in the ways of the pious and do like unto them! I am not worthy of the least of all the mercies, and of all the truth, which Thou hast showed unto Thy servant. O Lord of the world, as Thou didst not suffer Laban to execute his evil designs against me, so also bring to naught the purpose of Esau, who desireth to slay me. O Lord of the world, in Thy Torah which Thou wilt give us on Mount Sinai it is written, And whether it be cow or ewe, ye shall not kill it and her young both in one day. If this wretch should come and murder my children and their mothers at the same time, who would then desire to read Thy Torah which Thou wilt give us on Mount Sinai? And yet Thou didst speak, For the sake of thy merits and for the merits of thy fathers I will do good unto thee, and in the future world thy children shall be as numerous as the sand of the sea."
As Jacob prayed for his own deliverance, so also he prayed for the salvation of his descendants, that they might not be annihilated by the descendants of Esau.
Such was the prayer of Jacob when he saw Esau approaching from afar, and God heard his petition and looked upon his tears, and He gave him the assurance that for his sake his descendants, too, would be redeemed from all distress.[243]
Then the Lord sent three angels, and they went before Esau, and they appeared unto Esau and his people as hundreds and thousands of men riding upon horses. They were furnished with all sorts of weapons, and divided into four columns. And one division went on, and they found Esau coming with four hundred men, and the division ran toward them, and terrified them. Esau fell off his horse in alarm, and all his men separated from him in great fear, while the approaching column shouted after them, "Verily, we are the servants of Jacob, the servant of God, and who can stand against us?" Esau then said unto them, "O, then my lord and brother Jacob is your lord, whom I have not seen these twenty years, and now that I have this day come to see him, do you treat me in this manner?" The angels answered, "As the Lord liveth, were not Jacob thy brother, we had not left one remaining of thee and thy people, but on account of Jacob we will do nothing to thee." This division passed from Esau, and when he had gone from there about a league, the second division came toward him, and they also did unto Esau and his men as the first had done to them, and when they permitted him to go on, the third came and did like the first, and when the third had passed also, and Esau still continued with his men on the road to Jacob, the fourth division came and did to them as the others had done. And Esau was greatly afraid of his brother, because he thought that the four columns of the army which he had encountered were the servants of Jacob.
After Jacob had made an end of praying, he divided all that journeyed with him into two companies, and he set over them Damesek and Alinus, the two sons of Eliezer, the bondman of Abraham, and their sons.[244] Jacob's example teaches us not to conceal the whole of our fortune in one hiding-place, else we run the danger of losing everything at one stroke.
Of his cattle he sent a part to Esau as a present, first dividing it into three droves in order to impress his brother more. When Esau received the first drove, he would think he had the whole gift that had been sent to him, and suddenly he would be astonished by the appearance of the second portion, and again by the third. Jacob knew his brother's avarice only too well.[245]
The men who were the bearers of Jacob's present to Esau were charged with the following message, "This is an offering to my lord Esau from his slave Jacob." But God took these words of Jacob in ill part, saying, "Thou profanest what is holy when thou callest Esau lord." Jacob excused himself; he was but flattering the wicked in order to escape death at his hands.[246]
---